Monthly Archives:
October 2013
Newly Recorded Versions of Kershaw's Biggest Career Hits to be Released November 11
Album of Hits Also Includes All-new Material from Country Music Star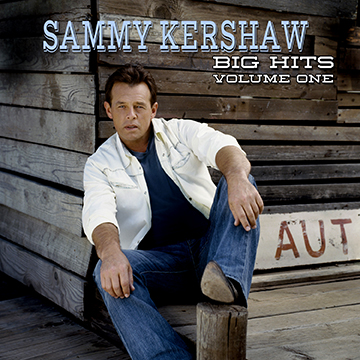 Nashville, Tenn. (October 16, 2013) – Twenty years after landing his first #1 Hit, GRAMMY-nominated county music star SAMMY KERSHAW is back in the studio rerecording many of the chart toppers that made him a household name.
On November 11, Kershaw will release BIG HITS: VOLUME 1 (Big Hit Records). The album contains ten of his biggest career hits in addition to two brand new songs. Newly rerecorded songs on the album include "She Don't Know She's Beautiful," "Cadillac Style," "Queen of My Doublewide Trailer," and "Third Rate Romance," among others.
"It felt good to go back into the studio and rerecord some of my hits," says Kershaw. "The technology we have in the music business now makes them sound much more fresh and updated but the heart and soul is still there in every song."
On choosing new songs to include on the album, Kershaw notes, "I've been listening to a batch of songs for about a year and finally narrowed it down to a few I thought were good for this album. 'The Middle' is all about falling in love with your girl out in the middle of the country and 'Can't Put My Finger On It' is a little edgy but it's a great singalong and I think folks will really like it."
Purchase your copy from Amazon.com


Get yours at iTunes!


Order yours from BestBuy.com


Check it out at FYE!
About Sammy Kershaw
Since his debut on the music scene in the early '90s, Sammy Kershaw has remained one of the most consistent power hitters in country music with a chain of major hit records and sell out tours. His focus is reclaiming the roots of country music and recapturing the spirit that made it great. Often referred to as the heir apparent to the legendary George Jones, Kershaw's Platinum albums have included such classics as "She Don't Know She's Beautiful," "I Can't Reach Her Anymore," "National Working Woman's Holiday" and "Love of My Life." Kershaw is a multi-platinum selling artist whose history includes six Gold and five Platinum albums that have scanned in excess of five million records.
For additional information on Sammy Kershaw, visit www.sammykershaw.com.
Big Hits: Volume 1 Track Listing:
1. Don't Go Near The Water
2. She Don't Know She's Beautiful
3. Yard Sale
4. Vidalia
5. Haunted Heart
6. The Middle
7. Cadillac Style
8. Love Of My Life
9. Third Rate Romance
10. Louisiana Hot Sauce
11. Queen Of My Doublewide Trailer
12. Can't Put My Finger On It
# # #
Sammy Kershaw Media Contact:
Absolute Publicity, Inc.
Don Murry Grubbs / don@absolutepublicity.com
615-275-8380
***Visit our website at www.absolutepublicity.com***